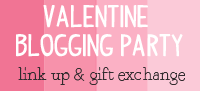 Not sure if you all know this but I have a crush on
From My Grey Desk
! I love her blog. *Phew* now that that is out of the way, she and quite a few others are hosting a Par-TAY for Valentine's day! I've decided to join in the festivities this year and am inviting you to join as well.
Hurr up and jump on over to
FMGD
to read up on the requirements and join in on the fun!!
Valentine Blogging Party